Providing Personalized Holistic Healing.
AdvoCare Clinic is committed to being a premier center of excellence in holistic healing. Our charge is to serve those who entrust us with their care. We wish to make getting your medical marijuana card a smooth and seamless process.
Reasons to Consider Getting Your
Medical Marijuana Card
Get An Ohio Medical Marijuana Card
Beginning a medicinal cannabis program requires a visit with a physician credentialed to recommend cannabis therapy and place you in the medical marijuana card registry. The AdvoCare Clinic team is committed to making this process work for you.
Schedule Your Appointment
May we invite you to schedule an appointment today and embark on your journey to holistic healing and getting your medical marijuana card?
The Process
Steps For Getting Your Medical Cannabis Card.
By following these four easy steps, you can get your medical marijuana card.
Make sure you have one of the qualifying conditions.
Book your appointment now and complete the patient intake form.
You'll also gain access to our custom Education video course.
3 | Physician Consultation
This can be completed in the clinic or through Telemedicine on your mobile device or computer.
Once qualified, we will walk you through the state's process for attaining your card in the least amount of time possible. Often the same day.
Ohio's current 25 qualifying conditions for the Medical Marijuana Program.
AIDS
Alzheimer's Disease
ALS – Amyotrophic Lateral Sclerosis
Cachexia/Wasting Syndrome
Cancer
Chronic Traumatic Encephalopathy
Crohn's Disease
Epilepsy Or Another Seizure Disorder
Fibromyalgia
Glaucoma
Hepatitis C
Huntington's Disease
Inflammatory Bowel Disease
Multiple Sclerosis
Pain; Chronic And Severe Or Intractable
Parkinson's Disease
Positive Status For HIV
PTSD – Post-Traumatic Stress Disorder
Sickle Cell Anemia
Spasticity
Spinal Cord Disease Or Injury
Terminal Illness
Tourette's Syndrome
Traumatic Brain Injury
Ulcerative Colitis
AdvoCare Clinic
About Us & What We Strive For
AdvoCare Clinic was born of inspiration derived from the principles of freedom and personal liberty upon which this great nation was founded. "Four score and seven years ago our fathers brought forth on this continent a new nation conceived in liberty and dedicated to the proposition that ALL People are created equal"…with the caveat of regardless of age, race, gender or creed.
The AdvoCare Clinic Team will endeavor to operate under the tenants of Integrity, Humility, and Discretion while striving to provide an environment for holistic healing. Our charge is to serve those who entrust us with their care. We utilize a proprietary layered clinical encounter model in concert with the latest technology to fulfill this responsibility. Simply put, we are here to serve.
Respectfully,
The AdvoCare Clinic Team
About Dr. Steve Davis
Dr. Steve Davis is the CMO of AdvoCare Clinic, with 20+ years of experience as an emergency physician. He is focused on helping patients caught in the opioid crisis. He counts his beautiful, supportive family and friends as blessings. Along with the AdvoCare Clinic Team, he looks forward to helping those in need.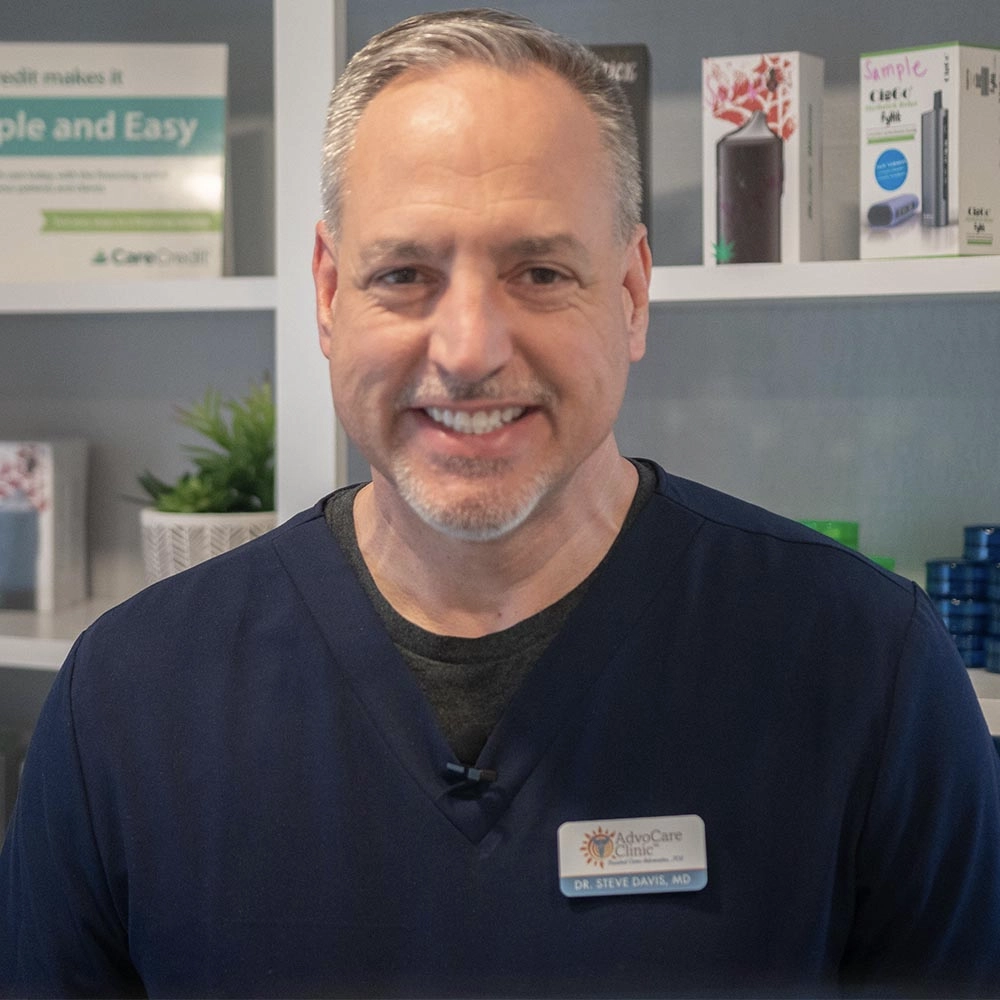 Testimonials
What People Are Saying
Emily Tracey
December 18, 2022.
The staff was amazing. Gave lots of information, answered any questions and made me feel very comfortable. I highly recommend.
Don Rutter
November 16, 2022.
I was blown away by the care, dedication, compassion and professionalism I received from Dr. Steve and his wonderful staff of Lauren and Karen. They taught me more in one hour than I thought I knew in my entire life! I would recommend them to anyone and if you think you know all there is about Marijuana then you definitely need to talk to them...🙂
Josh Selogy
October 27, 2022.
That place is great totally helped with this post and pain
Jeff Murray
October 12, 2022.
The staff are absolutely incredible in their knowledge and patience. I couldn't recommend a better experience in getting the help I needed. I'm so happy to be apart of the AdvoCare family!
Fred Smith
June 28, 2022.
Dr Steve and his staff are Super Helpful, never had a bad experience with them. I'd recommend them to anyone, and I have multiple times. Keep up the Great Work Advocare ❤️❤️❤️❤️❤️❤️
Sherri Burgy
June 22, 2022.
Dr. Davis and his staff are amazing, I started this program at the insistence of my grown daughter one year ago. I've never been a cannabis user and was very hesitant to try it at age 53. I have spent years with chronic pain and severe anxiety, I was at the point that I literally just thought that this was how my life was going to be. Once I got in the program, Dr. Davis and his staff helped me navigate through the different types of products and benefits of them. Before long I found what was working for me and my life began to change from days of constant pain, anxiety and depression to pain free days, the ability to work a full shift without dose after dose of medication and enjoying life with my family. Not only did this program restore my quality of life, but I firmly believe it saved my life. Im extremely grateful to Dr. Davis and his staff.
jessica danner
April 26, 2022.
I am the nurse of one of their clients. I am a huge anti-drug person. I included cannabis in this category but not anymore. I am 100% for medicinal use. Cannabis has helped decrease my clients pain, stopped her parkinsonian like shakes, decreased her anxiety, and (happy accident?! ) helped her speak in a normal tone and not a whisper. The positive changes in her quality of life has been amazing. This place is a game changer. Dr.Steve is great and the staff are wonderful.. They will forever have an advocate in me.
Craig Sampsel
April 1, 2022.
I found Doctor Davis and his staff to be most helpful in educating me about medical marijuana and would highly recommend them to anyone that is in need of this treatment option!
grrrrronyou
March 18, 2022.
Really great people, very friendly, helpful and professional.